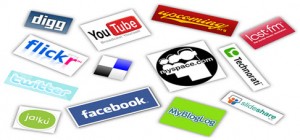 DATE: Wednesday, February 25, 2009 9:00 – 4:30
REGISTRATION: FULL DAY, INCLUDES LUNCH: Standard Price $349, Early Bird Price $279
LOCATION: UNIVERSITY OF CALIFORNIA, LOS ANGELES: UCLA Faculty Center, California Room.

EVENT FOCUS: What do big brands like Dell, Sprint, Southwest, Comcast, H&R Block, Zappos.com and others know about Social Media that you don't? Social Media is a fast, efficient, and relatively low-cost way to get your message directly to an audience. Over 100 million-plus videos are downloaded from YouTube each day. There are millions of blogs and millions of profiles on social networking sites such as MySpace, Facebook, and Twitter. Is this just hype or has marketing, advertising and corporate communication changed forever.
These new tools - blogs, wikis, podcasts, Facebook, Twitter, online video and social networks - all present intriguing opportunities for customer engagement, but can be intimidating.
Join top social media experts Beverly Macy and Rodney Rumford for a full day of information, case studies, special guest speakers,and networking. In this classroom-like setting, you will learn how to establish strategic objectives and ROI targets for successful social media campaigns. You will leave knowing how to get started in the Social Media world and move in the right direction to meet your business objectives.
Attendees will walk away with:
* Best Practices
* Action Items
* Unique Insights
* Case Studies
* Unique Trends Data
* Clearly Defined Objectives
* Access to a Peer Network
* Opportunity to Gain Knowledge with a Private Marketing Mastermind Group